Clan head Zaato Yere Zaato Yere (62) is clanhead and as such an important and well respected figure in town. He started a new residence for his family, together with his two brothers and lives on the first floor of the compound they built. It provides status and gives a good view on what is happening under his reign. Yere has to make important decisions in matters relevant for the family, whether someone should go to school or not. In all discussions about our projects in Kpare he played an important role.
Funeral takes three days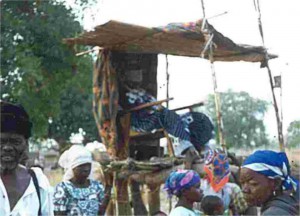 Birthdays or special feasts around the birth of a baby are unknown in Kpare. But a funeral is an event not to be missed. There are three full days of extensive mourning. Mourners are bound here to neighbours or family with pieces of cloth or ropes to give comfort and keep them from harming themselves. If the deceased is a woman all her pots are put together and broken ritually. One of the customs here is a spontaneous act whereby elements of past of the deceased are relived or reference can be made to his or hers place of origin.
What will it bring this year?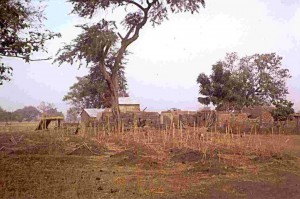 Fields between the componds of Kpare. Millet and guinea corn is planted on hills to retain the water a little longer. Other crop is planted in between to reduce the risk of a bad harvest.
Ecological building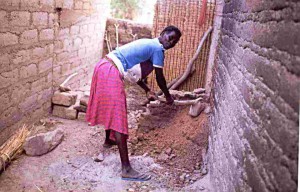 There is no need to teach the people of Kpare to build in an ecologically responsible way. A resident pulverizes a wall, so that it can be used again for building, or shoveled on the fields and thus recycled. Building with mud and clay is healthier too, because it makes the temperature in the rooms much more equable than with metal roofings and cement in the intense heat of this region
Water, water, indispensable commodity
Water, water. Every day some hundred liters are needed foor basic needs. Washing, cooking and preparing pito beer. Each morning women and girls go to the well to fetch water on their head in large containers. There is never enough water to irrigate the fields. Even early in the morning water evaporates before reaching the roots of the crop.
Pito beer is made and drunk every day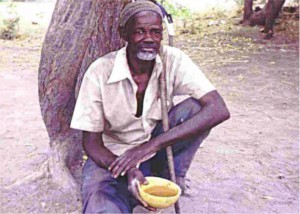 Homebrew pito is an excellent alternative drink in hot weather, because even uncooled it tastes good. The recipe: cook some millet with water and yeast, after colling and reheating the substance it is ready for use in three days. The yeast is removed to be used again and the beer is consumed the same day. Making pito is one of the daily tasks of the women in Kpare.
Making food is a full time job.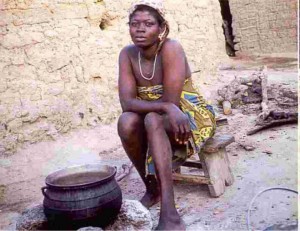 Cooking and making pito beer is done by the women of the compound, each in her own corner. Sometimes for more than one family at a time, depending on who supplied the ingredients.
Kids of Kpare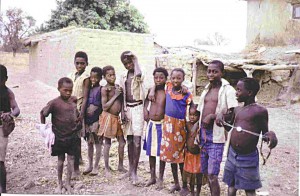 The names these children get are from the Dagare area around Kpare. Nmes like Amina, Saaspoge or Dolaje. Sometimes they tell something of the area where they come from. More to the south of Ghana in the Kingdom of Ashanti for instance people are named after the day they were born. Moslims names like Fatima or Seidu stem from the beginning of the last century when muslim gangs plundered and burned villages in this area. Having a arab sounding name was thought to help against harrassment. Since the British influence and schools run by catholic orders names like Titus, Gilbert or Sebastian were introduced.
Breakfast in Kpare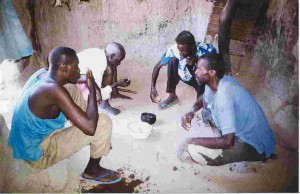 A group of men eating porridge with a saucy substance. Sometimes with some meat in it, mostly with other protein sources like beans.
Official signing of the convenant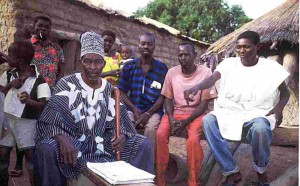 A picture of the village associatie Kayda with which the Kpare Foundation cooperates in alle projects. From left to right: Duori Bayuo, Tendana (earthpriest). Then former policeman Peter M. Kassaw, now retired. Sebastian Dokorah Ullo, familyhead and teacher in Kpare and far right Bakyeme Fanoba, replacing chief Zumoh Baligi, who resides in Accra.
Agricultural community in B.A.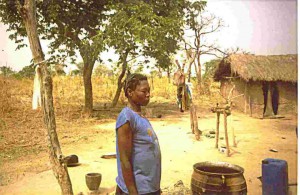 In B.A. the living conditions are minimal, in spite of more rainfall.
Fire in the fields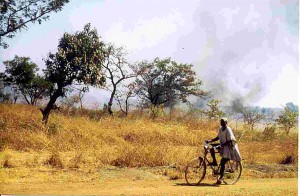 Fire in the savanna, just south of Kpare. Especially during the dry season fires abound in northern Ghana. Sometimes a fire is set on purpose to prepare a field for planting or to create a buffer to reduce the risk of a fire started by a lightning.